HOW THE MONEY HELPS
Brightening the road to recovery for pediatric cancer patients & their families.
Receiving treatment for cancer and other serious disorders can keep families in the hospital for weeks and months on end, a process that takes a toll on them physically, emotionally and financially. Your support of the Kid's Cancer Buzz-Off will ensure that children with cancer and their families receive the help they need at what is probably the most difficult time in their lives.
The following are vital programs and services funded by the Kid's Cancer Buzz-Off: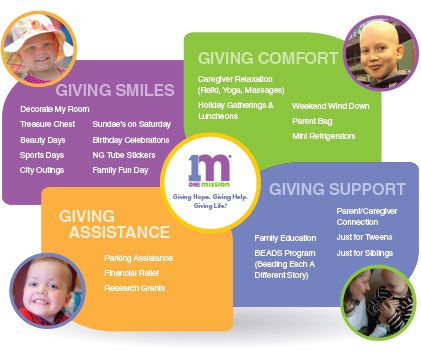 Jimmy Fund Clinic Family Fun Festival
The Pediatric Activities program offers our youngest patients the opportunity to focus on reducing anxiety and stress through creative expression and communication activities which are vital as they bravely battle their disease. The festival includes swimming, police car rides, rock climbing, moon walking, bumper cars, and much more. Children leave having experienced a day of pure joy and laughter, and having been given a much needed break from their daily lives as children battling cancer. 
Treasure Chest
Kids who spend days and weeks away from home, relatives and friends need a diversion and fun; and of course a special treat every now and then.  One Mission purchases hundreds of toys each year to fill the treasure chest in our partnering hospitals.  Kids are welcome to go to the treasure chest to pick out something extra special for being so brave. The treasure chest helps "kids stay kids" while hospitalized.
Decorate My Room
The Dec My Room program provides a positive and healing atmosphere for sick kids.  This program is introduced to families when their children are at their most challenging point of treatment.  Volunteers decorate patient's rooms with the child's favorite colors, characters, toys, games, books and interests.  A child's room is decorated when they are in surgery or in testing so that they come back to a welcoming and new positive environment.   With the help of One Mission, the rooms of over 300 patients will be decorated in 2014.  
Events & Celebrations
Special gatherings for patients and families provide them some much-needed respite from the daily toll of hospitalization.  Birthday parties, Sundae's on Saturday's, Movie nights and Special Outings are held regularly for patients and families.  Spending a birthday in the hospital isn't fun for anyone, but a festive celebration with cake, friends, presents, and family helps cheer up patients and their families.  Several "mini wishes" for families enduring particularly long hospital stays are also granted.  Outings like Duck boat tours and museum visits are organized when a patient's treatment permits.   Funding from One Mission enables these events and outings to take place regularly.
Beauty Days and Sports Days
Beauty days and sports days will be offered to patients during the year. The beauty days will feature all things related to fashion, pampering and even wig fittings. A photo with mom will help commemorate the beauty days. Professional athletes will make special visits to the hospital equipped with sports themed decorations and fun.
NG Tube Stickers
One Mission supplies hospitals with items that make the hospital experience less scary and more fun.  Items like character themed G-Tube covers, IV Pole Pads, and Brave Kids Capes just to name a few!